Through the Eyes of a Child.
For as long as I can remember I've always wanted to be a mom.  It's not even that I am the most nurturing person. I think from a young age, it was more about my desire to emulate my own mother and those fun, caring, influential ladies in my life. Yes, I always haaaaaad "children" in my pretend scenarios playing "mommy", though I was just way more into playing "mom mode",  ala "running errands" and attending "board meetings" and keeping order to the game of life.
These scenarios typically began by me charging into my mom's beautiful, spacious closet (one of my favorite go-tos for entertainment as a youngster – and the best kept secret hiding place), emerging shortly after from the sea of discarded clothes, haphazardly flung to the floor (sorry mom!), most often in one of my mom's button up shirts-turned-make-shift-dress. These were always finished off with a belt tied around the waist achieving that 80's working woman look. And not to be forgotten, the accents of jangly jewels, a "pocketbook", sunglasses and heels. Heels were key, as clamping and clacking around the house on our hardwood floors was an essential in the game of "mom". You sounded powerful, purposeful, and most importantly, fancy.
Like my mom, I referred to my (pretend) children as Sweetie. In fact, my main squeeze, a prized Madame Alexander doll that most mothers insist a child keep atop a dresser or in a lit glass case, was named—yep, you guessed it– Sweetie. Sweetie and I were a perma-squad. She was my forever sidekick. Her nails were painted by yours truly (permission "requested" after said painting took place) and there were visible signs of my many attempts to drive sharp objects through her ear lobes in hopes to pierce them like my friend Elizabeth's doll's ears. (All attempts unsuccessful.) Sweetie would ride in the stroller and upon my hip as my child and had many adventures in the real world as well. She took part in every family trip, every organized family photo, brother's t-ball games, family dinners and also became the victim when big bro needed to retaliate or ruffle feathers. This landed her in a toilet a time or two, and swinging from the occasional chandelier. My brother would actually always apologize to Sweetie when it was all over. She had quite the effect on folks.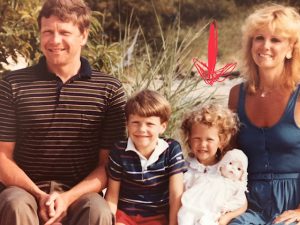 Having parents that were into more non-traditional kind of entertaining for us kids, made me want to be a parent the most. My brother and I weren't in a lot of camps, weren't getting a ton of toys on the reg, and never made it to Disney World. Yet we never missed those things. We didn't know to miss them. Always (and I mean always) in the woods with friends climbing trees, finding random streams and animals and nests—and weird shacks and barns. (Is that a southern thing?) We rode bikes, played two-hand-touch-football and pick-up basketball or HORSE with neighbors at any turn. My parents often included us at their fancy or casual cocktail parties (until bedtime ;), board games, travel and cooking.  So more than me being super maternal (I haven't decided if I am or not), I wanted to have a child to show the world to– the way my parents did. And I fell for my hubs because he felt the same.
So cut to— my husband and I–in the same boat as many of our dear friends. We were all happy, young-ish, carefree-ish, bright-eyed newly married, or been married for a while–either way; before kids, things are pretty dope. And most notably, before a baby enters your household, you remain pretty clueless on parenting in general. I don't care if you have won the medal for the world's greatest Aunt or an award winning bestie or Uncle or babysitter. You just don't know what you don't know. Reality blinders secured, but all in—eh, mostly excited. "The things we are going to do with these kids. Look out, Universe!"
An eye-opening and amusing observation I made came around the time my oldest daughter turned two. Before I had children, despite my true joy in youngsters and the things they said and did, I had no clue what children did at what age. Do you walk before you talk? When does the potty come into play? When is arithmetic? I realized many of my pals were stumped all the same. We were just watching our small humans grow and do their thang in awe. Learning right alongside them.
But when age 2 came along….whoa. Cue the group reaction: – "Hold up!—- Time is flying. Life is passing by! We gotta show these kids the world."
Sooooooo we all panicked with excitement. We shoved fishing poles in hands, tooshies on bikes, tennis "lessons" on the reg, snow skiing– for goodness sake!—everything we envisioned as new parents that would be "so fun to do with kids one day".  (Some even jetted off to Disney a little prematurely. A 2 year old at Disney is noooo Bueno (I'm told.)) All of these things were just kind of a fail; frustration to all parties involved. To this day my oldest harbors emotional scars from the slopes. Sure, maybe it's just about getting them familiar, but we were those over-eager, rookie parents pushing any and everything because we couldn't wait. Now I laugh as I'm on my third child who just moseys around TRULY happy simply sporting a helmet around the house launching things at the wall. No forceful lessons on form or precision. Just him being a kid.  Maybe this whole line up has a 'lotta explainin' to do" on the ol' science of birth order.
So, as Father's Day rolls around, it just got me thinking back to the truths on how there is no one handbook on being a parent—or a kid, for that matter. We all just do the best we can. Or- honestly, sometimes I don't even feel like I'm doing the best I can. Sometimes I only have enough gas to just do the minimum—and that's okay too. If you're with me– as a parent or a kid, or a friend– you're forgiven. We can always reset and re-center when the uuumph resurfaces.
The other day our Rabbi was giving one of his insightful talks and referenced something his high school football coach used to say. He quoted, "good character is doing the right thing at the right time, all the time." As aforementioned, I love a solid quote. And you know who else does? My dad. And you know who the quote applies to most in my life? My dad. He's the guy that as much as something might suck to do, he encourages you to do it. Not to delay. Get the job done, or the apology delivered, or the gratitude known. Always, without a doubt, in the most respectful manner. One of my all-time valued traits about my dad—well, wait, there are two—his genuine interest and recall for an individual's name and personal history. He remembers every person's name that he meets and their connection to this world. From any walk of life. And tied with this—his super easy and fun sense of humor. The cleaner the joke, the better. If I could sit and watch a Little Rascals marathon with him, my time would be made.
Aaaand with this Father's Day tribute, let's not forget my dad's heroic spirit. Let this be known as the first time I was sure he had super powers….Picture it: The Washington, D.C train station, 1984, 9AM EST. (I would picture it, but I was asleep.) My family of four – plus Sweetie, of course, had hopped a 2AM train from South Carolina to visit our family in Virginia for Thanksgiving. The adults, my folks, not securing ample sleep thus a little discombobulated, hurriedly scooped up our luggage and sleeping kiddos and headed for the exit terminal. Greeted by my grandfather, we were off to his home for the holiday! Alas, when we arrived at the house, Sweetie was nowhere to be found. Holy Sh*t. I think my parents were more panicked than I (now as a parent, I get it.). After brutal travel and pure exhaustion, my mom strongly enforced to forget it, the ride was too far back to the station. She suggested finding a replacement. But wait—– it's a bird, it's a plane—nope! Just my kick-ass Dad to the rescue! He flew to the the car and off to the station. Mission accepted— and accomplished! Sweetie was just chillin' at the station waiting to be rescued. (That Diva.) So, here's to any father or father figures ala super heroes just doing what they do best. I know a lot of cool ones out there (my hubs, fo sho). And a special thanks to those Uncles (all of them) that have always treated me like their own. I am lucky beyond measure.
See the world through the eyes of a child this weekend. Believe in everything. Marvel it all! Like this treasured (feature) snapshot of my boy taking in a baseball game for the first real time. Watching him watching this gave baseball a whole new shimmer in my eyes. That's fer sure.
(My Dad always calls my son "Spank" (from Spanky in the Little Rascals) which made this picture seem just about perfect for this little tid-bit. He rocks the part.)