It's that time of year I suppose. Resolutions have either stuck or dissipated; whatever your stance, there is still the inevitable notion out there to just tighten up. Which raises the question, what does tighten up bring to your table?
Growing up, my household used this term (usually adult directed to a child requesting a purchase), "sorry, not now, we are tightening up this month"….which was one of those things you heard as a child and knew what it meant while also having no idea what it meant. In this case, spending less.  It makes sense.
I have dropped "tighten up" when introducing myself to a fitness trainer (our relationship typically ending shorty thereafter the initial complimentary visit). The use here implies my desire to "tighten up" certain "less tight" areas of the body. I've referred to the phrase when speaking to the occasional beauty expert when said expert inquires what my end-goal is for treatment or product usage; "brighten & tighten",  I say!
My brother used to use this phrase when talking about neglected neighborhoods and real estate opportunities, "just needs to be tightened up a bit". This amused me as it is such a broad sweeping, yet clear-in-suggestion plan of  attack.
I've used "tighten up" when I want to get my eating sitch back on track. I've also spoken the phrase intently through gently clenched teeth disciplining my children in fine dining establishments when they feel the need to throw a parade. It really just comes in handy with such a flowing spectrum of uses.
With the recent holiday season coming to a close, I find that I have stumbled into a turbulent cyclone of "TIGHTEN UP" flags. Eating, spending, late nights, loose parenting and very literally looking into the mirror and seeing a need for tightening….everywhere. Tis the damn season (still), am I right?
So while I can't offer any tips on most of the aforementioned, I do have an all gender pampering face mask that does, indeed-yes—tighten!
Take a minute for yourself for this jammin' mask.
Aztec Secret Indian Healing Clay.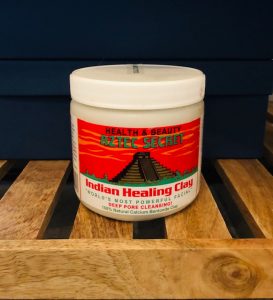 The instructions are very clear on the container and couldn't be easier to mix and apply. I have been mixing my masks in vinegar (an option it mentions), though some conflicting research says water may be best. Your pick.
While I was excitedly purchasing this in my health food store (Amazon has it too!), a nice lady suggested that I add this little number to the mix SW Basics Hibiscus Mask.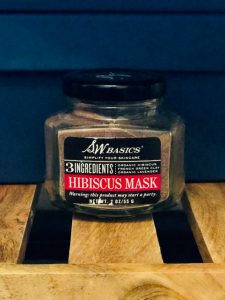 Add a small scoop of the hibiscus mask powder to the scoop of Indian Clay powder, add water or raw apple cider vinegar, stir into a "pudding like consistency". Then use a soft brush (clean paint brush works just fine!) and paint the mixture onto your pretty face.
I have been loving this combo, so wanted to share it with all my fraaands. (The little Christmas tree limb in the feature image is just an image garnish (reuse, recycle), though nothing wrong with giving it a huff while you relax and tighten.
**The instructions will mention that your skin may have a reddish tint after removing the clay mask; this is normal and goes away after about 20 minutes. It's worth it!
**When reading online reviews, I see that the Indian Clay is used for many healing purposes, so good thing it comes in a giant tub and you only use a wee bit at a time. It can heal in ways you didn't even know you needed healing! Bonus!
If you are struggling at the moment to tighten up in the areas of discipline, you can at least have this one "tighten" checked off the list. Affordable, easy beauty for all. Treat yourself.
In closing, this is happening as I write to you: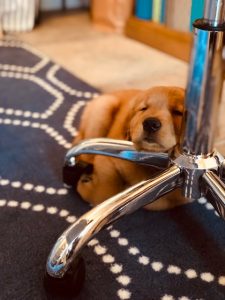 Cheers to Monday.