Well I went dark for a minute. Real dark. The holidays have taken me down to a knee and it ain't even over yet. (And full honesty, this piece isn't edited "all that great", so you know who you are editor pals….send me those blemishes :) xoxox
We kicked off with my favorite holiday and enjoyed the most easy and meaningful Thanksgiving we have had in a while. My parents are the ultimate holiday warriors, especially in the face of those sinking feelings that inevitably creep up of missing their son. Their light remains bright and positive; truly amazing humans. In addition, they make it too easy for us. They take on the traveling AND cooking AND delivering of the food in coolers to our little house. All we have to do is swing our doors wide open and throw our arms around em real tight. And we do just that.
After the rapid, heartwarming Thanksgiving came to a close, we thought we would dive right into the thick of holiday mayhem and treat our kiddos to a little Disney World surprise mid-Hanukkah week. NO ONE will be there Tuesday/Wednesday in December, we thought. We thought wrong. Apparently, like Vegas, this place doesn't get too sleepy.
This being my first Disney exposure ever (with the exception of a few hours of me being an 8thgrader on a "scientific" field trip called Earth Shuttle), my expectations were—well, complicated.  I recalled our dear, former babysitter and friend Rea who passed away not too long ago, in her blended, sweet Italian-English and her kind, maternal eyes telling me I must take my children to Disney, "it is magic." Our friends who are more fancy-free and kid-at-heart than I, kept saying it was a must as well. I just wasn't sure what could be this fabulous? (I must say, I felt the same way about being last in line to finally see Hamilton. Could it really be this amazing? It was. Sooooo….Disney, we went for ya.)
One thing we did very right was enlist (beg and bribe) our fabulous leader and hero HTB to join us in hopes of keeping our kiddos wrangled and fed. She politely accepted, however we accidentally hit the jack pot, because as it turns out she is a WHIZ at Disney. She is a big fan, which we knew, but also came knowledgeable regarding the ins and outs of the technical side. Downloading apps, navigating the park, gauging wait-times, knowing what was apprope for our chillen' –and what wasn't (ahem…weird, drunk country bears?).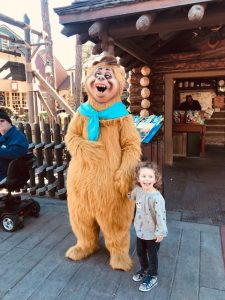 On our first evening, we toasted to HTB. "Knowing now what we didn't know, I wouldn't have stepped out of the car without you, H", said hubs.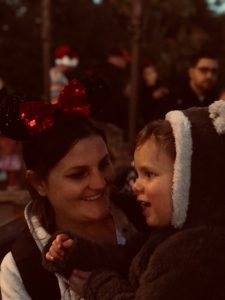 So- Disney. Here's my take. Eventually I came to realize that no preparation or research could have readied me for what to feel. I had a lot of feels, though the take-away is that there truly is a something magical in the air. Not to sound too ignorant; I have been told, again, much like Vegas, management is in fact pumping scents and special air into the air (totally cost effective, I'm sure). And you know what? I'll take it. I was a happy, carefree, patient, kind being in Disney. (And, let it be known, I usually am in Vegas too. Side note.)
Back to that whole "being a patient being" thing. Can someone please explain to me WTF is happening to your brain when you are in said park? I have never been accused of being a patient person. I don't know how to wait on anything without doing something else. You may call it a compulsive disorder or an attention deficit syndrome; I call it function and efficiency. In Disney World (where we were: Magic Kingdom), (and I guess most theme parks?) there are Lines.For.Everything.Everywhere. Different than in my day visiting the occasional park, nowadays there are helpful wait-time approximations offered. As many of you know, even with the "fast pass" option you may get privy to, you find your time is spent largely while waiting in lines. There are super fancy routes you can take for backdoor access, but I gotta say for our family's first go, I'm glad we got to experience the grit and grind (poor us. such tough work.).
Even while waiting 32 minutes for a 1 minute experience, I look back and miss that damn time in the lines. Weird right? It was a time where I was forced to be still. Not texting teachers, brainstorming for work opportunities, coordinating carpools or planning meals and activities. Just sitting in line, removed from it all, with my humans. Even when they were whiney, they had a different vibe about it all. They knew there wasn't anything I could do (except entertain infinite snack requests out of our stash). We played a lot of "Who am I" and "I spy" and then sometimes we just stood there. And waited. Together. As one little unit with matching wristbands. It was special and awesome. Take me back to those wait lines! **What is wrong with me?****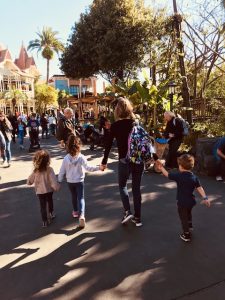 I am in no position to offer tips or suggestions on this topic, though I'll dole out a few gripes and likes from our quick trip (as a rookie) in hopes that one finds them inspiring or helpful for your next Mickey endeavor.
In two days we stuck with one park: Magic Kingdom. We shacked up at the Animal Kingdom Lodge which was a fan favorite. (Maybe because I was so glad to get "home" at the end of the day, but it's a sweet place to call home.) Having a front-row seat to Safari animals moseying outside your window was endless "free" entertainment. (Though Hubs will remind you nothing was for free on that trip :). The rooms are about as luxurious as a passenger train bunk room, but the animal view and the legit African cultured staff, décor and vibe had me continuously reminding myself that I had in fact only traveled one little state south. That was a pretty sweet mind trick they did there.
All dinner experiences were FAR beyond my expectations. I really expected a very mediocre cafeteria style situation (which I will say we had for our lunch in the park one day. Whatevs.); however, our dinner at the Beast's castle (in MK) was exceptional cuisine AND the best part? Kids would say meeting the Beast– I would say the magical, active, snow-fall created outside of the windows. Again, could have been delirium in the air, but I kept buying it!
Second night we ate at the Kidani Village restaurant (back at the Animal Kingdom). You could have told me we were at a fine dining spot upon a hilltop in glitzy Aspen (never been, but still). So cozy, nice, delish, legit. Again, just so beyond pleasantly surprised. I would have eaten at a Shoney's, but cool that I didn't have to, ya know?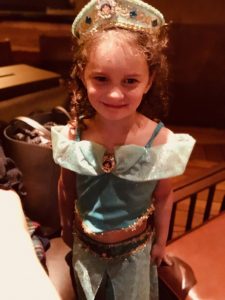 I would hope that my children feel the same in that I would be down for skipping any future princess visits. Disney needs to iron out some snags on this front. I know they had to eliminate the "free roaming" characters due to some creepy molesters, though the wait lines to snap even a quick pic is lame. It's a rushed, inauthentic experience that really takes away from what your kiddos imagine about a real encounter. The ladies seemed like they really couldn't be bothered with the whole gig. I would think to work at Disney even in the most humbling paying position is a huge feather and feat. We were just hoping the Princesses would be bursting with fairy dust and confetti. Not ours. Maybe this was B team in training? Lackluster at best. Sure, maybe this helps manage kiddos' expectations in the real world, but this is not the real world; it's Disney, need I remind you.  In the meantime, I'll be brainstorming on this for Disney corporate. As far as character visits, Mickey was pretty rewarding. My oldest delivered to him a stamped and sealed fan letter which he was jazzed about (as he should have been! Duh.). Two thumbs up there, buddy.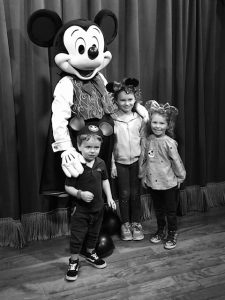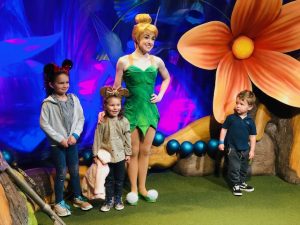 The Dumbo, Magic Carpet and Tea Cup rides are cute and appropriate for all ages. I say that but still in awe at how many duos and groups of JUST adults we waited behind at each. It's cute and weird to me all at once. I guess it's like my husband says in the car biz, "there's an ass for every seat."  As for rides, for your planning purposes, not only were we beyond lucky to have HTB with us, we actually had to have an adult per child (total:3) on most of them, so—phew! Score.
If you find that you just can't face another wait line, the Swiss Family Robinson Tree House was my (second) most favorite feature. It appears to be a little place to let your littles stretch their legs and do some climbing, though it's so much more. Not one person was in line when we went. Casually stroll in and all of a sudden you are engrossed in the most cozy, resourceful and inviting make-shift tree home reading about their captivating journey. I need to read the book as I was into this big time. This place was a nice refuge from "park life" for when you need to address your antsy.
Baby boy worshipped the Buzz Lightyear ride. We did it 3 times (in a row). And a heads up to those of you who stay out of the know in this arena, the little shooty-gun on your chair is actually legit and keeps score. I thought it was a prop to make you feel engaged. Husband and HTB were getting competitive, thus no one wanted to ride with me/loser.
Vertigo, pregnancies and all, I'd say it's been over a decade since pulling a lap bar down on a roller coaster. As I predicted, I still don't really like them. However, the little Barn Stormer "roller coaster" ride is just the right baby-step for maintaining my image as a fun mom to my kiddos (quickly fading) and possessing the ability to hide queasy and scared through forced smile.
Not gonna lie, I usually get emoshe anytime the chorus of small children comes together. Chills to the bone in the sweetest way. It's a Small World ride was no exception. Though my oldest said it was "creepy"; perhaps I'll agree that anything on repeat and repeat and repeat might just be that. Alas, I'm always fascinated by anything miniature and detailed. On this ride, the efforts to stay original, the thoughtfully detailed costumes, the varying cultures portrayed and the simplicity of the message- all while clutching my kiddos in my lap and watching it come to life in their little sparkly eyes. That ride for the first place win, in my book. Creepy and all.
There really is something difficult to put into words about the entire place. I feel very lucky to have checked that box for a little while. Though like ex-bosses and child birth, the negative memories fade, the glimmer takes over and you find yourself wanting to head back for more!
The lines were a bit intimidating. I have actually noticed a little PTSD in my oldest when we go somewhere and she hopes for something, then quickly declines when she spots a line. Like I said, I'm glad we experienced it in the way that we did. My three wee ones (and we three adults) were rockstars for those two days. And I've actually said this about Vegas too—"There should be a two day cap on this place." Maybe these places are more alike than we realize? In both places you begin to turn an exhausted shade of grey, quickly burn through your money and reality feels like a far cry away.  Same, right?
Always up for suggestions on what we missed!
Hope everyone is enjoying the holiday marathon. The love/hate I have with the ending being near is real.