Just over here rounding out summer with my rounded waistline. It's true. During these final days of summer and travel, I've been bending a lot of health rules and they've been snapping back! Now time to get back on that slim train. Before you roll your eyes at the below recipe, just know how versatile AND easy it is to make. I mean, they do not make healthy tasting sh*t this easy….untillll nooow! (That's the awk ad writer in me….come on down and give it a try!:)
This recipe is inspired by a dear friend, health guru and talented massage therapist (M.A.!). It is a fit for all the raw, vegan and vegan-wanna-bes. I throw everything into my Ninja blender. I may have mentioned it before…I have relatively new appliances and there are some that just don't pull their weight (my dishwasher—eye roll), but my Ninja blender I can count on every time. Such a trusty bada$$.
This dip is more than meets the eye. It can serve as a meat topper, a spread on a sandwich, mixed with more oil and vinegar for a salad dressing or pasta sauce. Or I just eat mine with chips. Mix it up and keep it in your fridge for whatever inspires you next.
*Editorial note: I use whatever fresh veggies I have, so this is a suggested mixture. The idea is that blended veggies and a little olive oil make a bangin', filling base for chasing away cravings for the naughty.
Skinny Dip (Gluten and Dairy Free, Vegan, Raw)
1 whole, raw zucchini (ends trimmed; rough chop)
½-1 celery stalk (leaves optional; rough chop)
2 chunky cucumber slices
2 green onions (green and white; rough chop)
jalapeño (seeds and portion up to you)
handful of fresh parsley
olive oil (start with 2 second pour; add for consistency)
juice of ½-1 lemon
salt
Toss all ingredients in and blend! May need to add salt (or any spices) and/or oil. Your world.
Voila!
Now onto more crunch-tacular things. This summer we had a big break through with my boy eating something other than "chicka pingers" (chicken fingers). Not that this is Earth shattering, but the kid crushed a pound of fried shrimp in about two minutes. Because I was delighted that he even tried something else, I got to work at home to try to make them a little more health friendly than that of the deep fryer at our local beach grill (still love you AJ's!). Again this is so easy and can be applied to chicken or even cauliflower chunks. Get Fried up! (And FYI, this is fun for kiddos to help with if they wanna. Lots of "little stations" for little hands.)
He Shrimps, He Scores! (Gluten and Dairy Free)
3 small, shallow baking dishes
1-2 lbs cooked shrimp; tails optional (I used a bag of frozen, cooked, medium size)
almond, coconut or quinoa flour
paprika (or cayenne)
unsweetened almond milk
high heat oil (olive, avocado, sunflower, etc.)
1-2 eggs
gluten free breadcrumbs (I am a fan of these:  Watusee Chickpea Crumbs )
Fill each dish ½ full, and arrange in this order:
Almond, Coconut or Quinoa Flour with paprika (and/or cayenne)
1 Egg mixed with almond milk
Gluten free bread crumbs
Heat oil in a skillet (hot!). Coat the shrimp a few at a time in each dish's ingredients in the order listed above. Then toss straight into the hot oil. Cook until golden and crispy, turning a time or two. I put on a paper towel-lined plate before serving, just because I see them do that on cooking shows. Dunno.
Dip these into (the above) skinny dip or gnoted's light on the goddess  Green Goddess dressing version. Though if you're my little man, good ol' "chechup" will do. (Not his best look ;)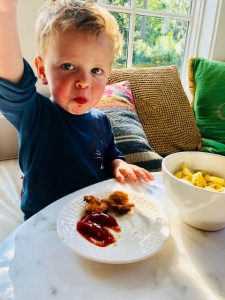 And here's a little (boneless, skinless) chicken from the other night using the same drill, but oven baked (not skillet fried) for about 15-20 minutes (depending on size) at 350 degrees.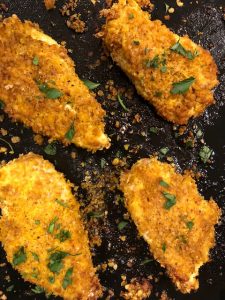 Lastly, this is not a formal "gripes and likes" post, (though it's prob about time for one); However, there has been a gentle theme to some grumblings amongst friends this summer. I'm just going to give light to a theory some of you may have been curious about lately. If you think that your top of the line, or close to it, dishwasher is just not that great, takes eons to do the job, doesn't actually do that great of a job, uses too much energy for the task at hand, isn't using as much water as maybe your dishwasher before…? You're right.
Back in my NYC days, we didn't have dishwashers, so when I moved to Savannah, I actually fell quite attached and dependent on this really old dishwasher. It wasn't pretty to look at, but nailed the job and in good time, every time. I didn't have a lot to compare it to, though I long for the days of that dishwasher, as my new shiny one is so jank!
A repair man was here to see my 2-year old washer the other day and I was telling him my theory that I felt there was some greater political issue on water supply going on behind the scenes. I thought he would laugh me and this conspiracy off as my husband typically does regarding many of my ruminations. Alas, he confirmed it! He claimed the government has put a mandate on the energy and water usages of these appliances. Cool! Good to know– NOW. I just wish they could have let me know so I could have managed my separation dilemma on the prior 1980s efficient machine break-up. Instead, ghosted.
First world problems, I realize, though wanted you to know the scoop on the dish ;)
That aside, hoping these recipes treat you right this week.